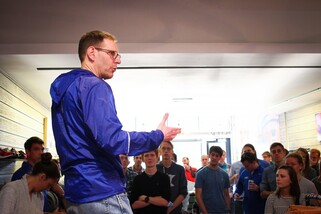 Jerry Alexander was a walk-on at Columbia who at least partially made up for his complete lack of talent with his dogged refusal to accept the reality that he had no business running in Division I. As a senior, Jerry was captain of the Lions Cross Country and Track squads. Jerry used his final year of track eligibility as a first year law student at Vanderbilt, where he broke the school record in the steeplechase. Jerry's running "career" was cut short by injury, which prompted him to take up the noble art of coaching.
Because Jerry subscribes to the proposition that the coach gets full credit for all successes (and its corollary that the coach takes no blame for any failures), he is quick to take credit for the excellent results achieved by GRC men on his watch including the men's 8th place finish at the 2017 USATF Club Cross Country Championship and the 1st place in the 2018 Millrose Games Distance Medley Relay.
Outstanding individual achievements include (but are not limited to):
Jerry also takes credit for huge PRs run by, among others, Kieran O'Connor (2:18:53 marathon), Lucas Stalnacker (1:05:26 half marathon), Zach Hine (2:16:36 marathon), Dan Meteer (1:04:53 half marathon, 2:17:38 marathon), Sam Doud (2:19:57 marathon), Carlos Jamieson (29:34 10,000), Stewart Reich (8:34 3000, 14:30 5000, 29:46 10,000), Jerry Greenlaw (2:26:50 marathon), Kevin McNab (50:28 10 mile), Blake Taneff (1:06:54 half marathon), Mark Hopely (2:25:56 marathon), Joe Wiegner (14:34 5k, 30:31 10k), Rob Brook (1:08:44 half marathon), Patrick Hanley (1:07:35 half marathon), Ryan Speir (2:29:16 marathon), Adam Hearn (24:36 8k), Ryan Hanson (8:23 3000), Jake Klim (30:52 10k, 1:09:19 half marathon), Paul Balmer (15:13 5000, 51:58 10 mile, 1:09:17 half marathon), Evan Jurkovich (1:09:24 half marathon, 2:27:37 marathon), Cabell Willis (3:53.9 1500, 14:41 5k), Dickson Mercer (1:09:57 half marathon, 2:28:01 marathon), Kyle Wagener (14:47 5000, 30:54 10k), Zak Miller (2;28:43 marathon), Lukasz Oleginski (15:01 5000), David Wertz (15:11 5000, 31:30 10k), and Jason Myers (4:01 1500, 25:17 8k), and for Sean Barrett's qualification for the 2013 World Military Cross Country Championships, where he placed third for the United States in the long course race.
Jerry also claims full credit for the transformation of the GRC's women's team into a burgeoning national power, which was amply demonstrated by the team's outstanding 6th place finish in the 2016 USATF Club Cross Country Championships, and victory in the Distance Medley Relay at the 2017 Millrose Games.
Outstanding individual achievements include (but are not limited to):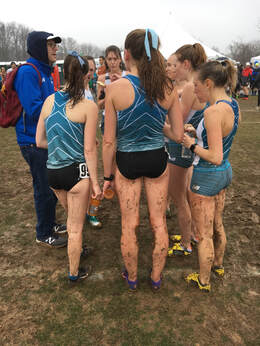 Jerry also takes credit for huge PRs run by, among others, Cecilia Barowski (2:02.14 800), Stephanie Reich (16:25 5000, 34:12 10,000, 1:15:45 half marathon), Teal Burrell (1:18:53 half marathon, 2:42:13 marathon), Lindsay O'Brien (34:38 10k, 57:47 10 mile), Maura Linde (4:32 1500, 16:27 5000, 57:00 10 mile), Kerry Allen (28:46 8k, 58:57 10 mile, 1:17:45 half marathon), Hilary May (4:32 1500, 9:52 3000, 16:56 5000), Maura Carroll (17:27 5000, 35:45 10k, 59:56 10 mile, 1:19:46 half marathon, 2:49:54 marathon), Alex Morris (4:34.8 1500), Beth Young (1:17:18 half marathon, 2:49:30 marathon), Kristin Johnson (59:40 10 mile, 1:19:21 half marathon, 2:48:06 marathon), Taylor Tubbs (59:20 10 mile), Michelle Miller (35:36 10k, 59:20 10 mile, 1:19:41 half marathon), Frances Loeb (59:59 10 mile, 2:49:40 marathon), Elena Barham (9:45 3000, 16:51 5000, 1:21:14 half marathon), Catherine Campbell (4:49 1500, 10:07 3k, 17:08 5k), Kate Dart (1:20:19 half marathon, 2:53:18 marathon), Julie Tarallo (1:20:40 half marathon, 2:51:55 marathon), Natalie Patterson (2:55:17 marathon), Keely Eckberg (2:56:18 marathon), Margaret Johnston (1:20:01 half marathon, 2:58:42 marathon), Hallie Fox (2:56:44 marathon), Liz Reynolds (2:57:47 marathon), and Greta Stults (2:59:58 marathon).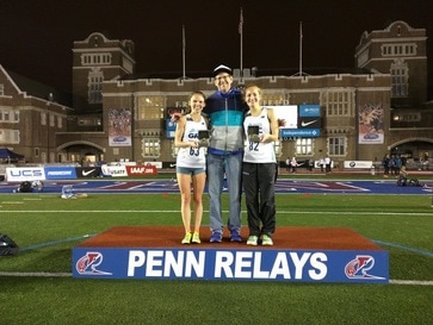 Before he started working with post-graduate athletes, Jerry was a college coach in the DC area. When Jerry became Head Coach at the University of the District of Columbia in 1995, he inherited a program that was in complete disarray. In his two years at UDC, Jerry recruited and coached an athlete who qualified for Division II nationals in the 800 and 1500 in indoor and outdoor track, but his rebuilding project was cut short when budget problems led to the suspension of the athletic department. Jerry moved to American University where he was Assistant Coach for seven years, during which time he recruited and coached All-Americans Sean O'Brien, Sean Duffy, and Samia Akbar.
Jerry also coaches the Northern Virginia Running Club, a community-based team where he has worked with numerous standout women distance runners, including Jessica McGuire, who qualified for the 2020 Olympic Trials Marathon with a huge PR of 2:43:55, former LaSalle All-American Kathy Liever, and Martha Merz, who broke the 17 year-old American Record for 10,000 meters for runners over 45 years-old at the 2008 Penn Relays.
Jerry lives in Bethesda with his wife Michelle, who only runs when she's chasing their son Jacob. When he's not devising new and unique ways to whip his runners into shape, Jerry is a Trial Attorney with the United States Department of Justice.