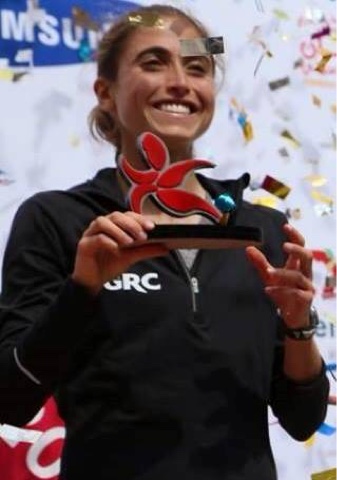 March 6, 1990 – June 3, 2015
Click here to contribute to the Nina Brekelmans Memorial Foundation
The Nina Brekelmans Memorial website: www.ninabrekelmansmemorial.org
Runner's World feature: Friends Honor the Memory of Runner, Advocate Who Died at 25
Video tributes from Jordanian friends: https://www.youtube.com/watch?v=qoSUtQ5MQ8c
Nina's story:
After making her mark in Kentucky, Mexico, New Hampshire, Egypt, Jordan and Washington, D.C., Nina Brekelmans was about to head back to the Middle East, ready to take on the world when a fire in her Dupont Circle rowhouse June 3 claimed her and a neighbor. She was 25.
She had finished her Master's in Arab Studies at Georgetown less than three weeks earlier and her parents, who are living in China, were on hand for commencement.
She was due to return to Jordan, to work on a Fulbright grant studying women's athletics as a means of encouraging confidence and self esteem. Her high school friend and GRC teammate Mary Grace Pellegrini said that on the verge of her new life, Nina was primed to change the world with her energy, talent, intellect and raw determination.
"She was at a happy stage of her life," Mary Grace said. "She had a sincere and deep love for the people of the Middle East. It's where she felt at home."
While in Jordan during part of a one-year language and cultural immersion fellowship (she started in Egypt until civil unrest prompted Americans to leave), she won her first attempt at a half marathon at the Dead Sea, taking home some prize money, meeting members of the royal family and generally being treated "like a star," Mary Grace said.
"She was an absolute dynamo," she added. "And she was so proud to wear her GRC shirt on the podium."
About the half marathon, she said, "for once in my life, I am quite pleased with the result, as well!"
That gave some insight into the standards that she set for herself. Despite taking up the sport in earnest only a few years before, and having won the Cross Country on the Farm 5k in 2012 in Derwood, Md., she was only starting to be satisfied with her performances when she won on a competitive stage.
Nina came to competitive running later in life than most of her teammates. While an undergrad at Dartmouth, she rowed on the crew team, but a run at home in Louisville during a semester break with Mary Grace opened a new door for her.
"I told her 'Nina, you're running really fast, you're in great shape,'" Mary Grace said. "I told her she could probably walk on to the team at Dartmouth. She played soccer (and tennis) in high school but would have been one of our best cross country runners."
So Nina showed up to the Dartmouth home invitational, cheered on by professors, friends and crew teammates who knew they'd lose her from the team if she ran too fast. She did, and became a harrier for the Big Green.
"Her career at Dartmouth was limited by injury, but she ran some very solid times in college," said GRC Coach Jerry Alexander. The highlight of her collegiate career came in Boston, where she ran a 9:56 3000m. "She was essentially a very talented beginner when she joined GRC in the fall of 2012. She was really committed to continue her development with GRC, and was training extremely well."
Injuries plagued her throughout her running career, but they only affected her body. She remained determined throughout and committed to her teammates both new and old. She beemed with pride when she had a chance to watch college teammate Alexi Pappas race in Alexandria last fall at the .US National 12k, and even though she loved her experiences in Egypt (before relocating to Jordan during her language fellowship), she regretted missing out on celebrating teammates' successes.
"It's been really fun to follow your racing results and see massive PR after PR. Wish I were there to enjoy these moments with you!" she wrote to her teammates.
Mary Grace remembered her as a devoted and genuine friend.
"Nina would remember things about people that they'd just mention in passing," she said. "She knew I had a great race at the Penn Relays, and she found a poster for the meet while visiting her brother at Penn and gave it to me."
That handoff meant carrying the vintage poster with her across the eastern United States over a few weeks.
"That's the kind of thing she'd do for her friends. She was a wonderful friend and so sincere."
And despite those injuries, she was determined to do something with her running. As she left for Cairo she told her teammates she wasn't going to let inconveniences keep her from the sport she had grown to love.
"I do plan on training in Cairo," she wrote at the time. "Through the heat, pollution and traffic, and probably getting shouted at."
That was typical Nina.
"She was always challenging herself," Mary Grace said. "To excel at academics, to go after the most competitive scholarships in the country, to learn another language. With Arabic, she was really on another level, truly exceptional."
That future was going to take her away from D.C., but not before she made an impression on her teammates.
"Nina was very, very proud to be part of GRC," Jerry said. "She was willing to do whatever it was going to take to hang with the girls, and she was a great teammate in every sense of the word."
I'd hear her wheezing as she'd push to keep up with her far more seasoned teammates and initially thought it was an indication of some weakness, but I realized quickly that it was indicative of her strength and focus to do what it took to be a better runner, to push herself harder.
We're left to only imagine where she would have topped out and the impact she would have had in the Middle East and beyond.
"She was ready to go out into the world and make a difference," Mary Grace said.
Nina's legacy:
In memory of Nina May Brekelmans, the Georgetown Running Club, in partnership with the Georgetown Center for Contemporary Arab Studies, is hosting the Nina Brekelmans Memorial Scholarship 5K on March 19, 2016 at 8:00 a.m. Thanks to generous support from the Cooper Standard Foundation, all proceeds raised from the race will be donated towards the Nina Brekelmans Memorial Endowed Scholarship Fund at Georgetown University. Nina graduated from Georgetown in May 2015 with a Master of Arts in Arab Studies. GRC is proud to support the Nina Brekelmans Memorial Scholarship, which will contribute to preserving Nina's legacy of goodwill and women's empowerment in the Middle East.
For more information on the Nina Brekelmans Memorial Scholarship and 5K race, please visit www.ninabrekelmansmemorial.org.