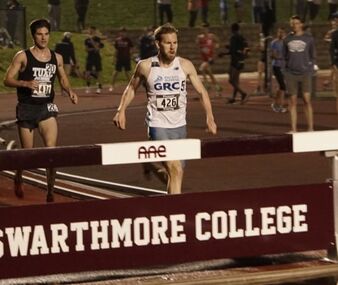 ​Paul's first encounters with running would foreshadow his future success when he won age group awards in his elementary school one mile fun runs. He would go on to compete all four years of high school with his top performance coming at the Pennsylvania indoors state meet where he finished 5th in 4:21. He also contributed to a 3rd place finish in the XC state meet, 2nd and 3rd in the 4 x 800 indoors and outdoors, respectively, as well as the top DMR time in the state.
​At Susquehanna University, Paul was a big fish in a small pond, finishing first on his team in virtually every race and ending his collegiate career as a 3-time NCAA qualifier in XC and a 2-time All-American in track (indoors in the mile and outdoors in the steeple).
​As a post-collegiate, Paul has continued to find success. On the track, he was the 2013 Penn Relays Olympic Development steeple champion, anchored the GRC DMR to victory in the 2018 Millrose Games, and holds the club record in the steeplechase. On the roads, he was the 2013 Run for the Diamonds champion, 8th overall and 2nd American at Broad Street in 2017, and the top local finisher at the 2018 Cherry Blossom 10 Miler. Paul is a teacher in Washington.
Paul was named GRC's 2018 MVP, which you can read about here.

Personal Bests:
1Mile – 4:08 
3000m – 8:25 
Steeple – 8:53
5000m – 14:25
8000m – 24:14 
10k – 30:40 
10 Mile – 49:38 
Half Marathon – 68:27 
Marathon – 2:29:54